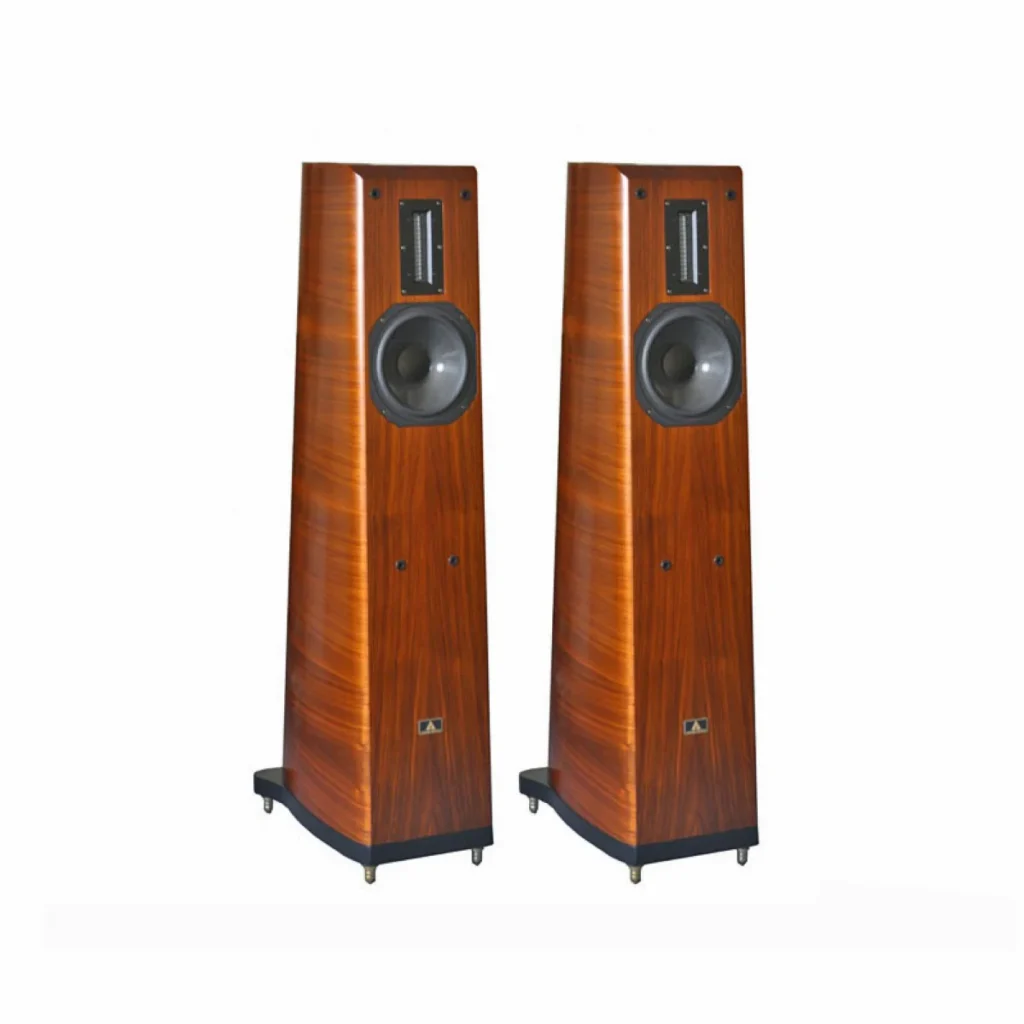 Floor Stand Speaker is the entry level speaker in Melody series of Aurum Cantus. This is a highly competitive and musical system in a sumptuously built enclosure.
Aurum Cantus M-103 SE FLOOR STAND SPEAKR has 2-way vented box. Its Frequency Response 35Hz up to 40kHz. Sensitivity of the speaker Is 89 dB and Impedance is 8 ohms (minimum 6.4 ohms). Aurum Cantus Melody M-103 SE FLOOR STAND SPEAKR 50-200W Power is recommended.  Tweeter Model APR3.2. Sandwich aluminum ribbon tweeter, the size of aluminum
ribbon (LWT):100mm×8.5mm×0.015mm. High power handling, high output shielded design, easily field-replaceable for the ribbon. Midwoofer Model:AC180/DC50C2C, 1×180mm (7″). Aluminum frame, the sandwich
cone of non-woven carbon fiber+Cell+Non-woven carbon fiber, 50mm (2″) copper clad aluminum voice coil with flat wire, the special magnet system with Faraday ring and demodulation coil, 120mm×20mm Y30 Ferrite magnet.
Crossover Frequency and Crossover's Attenuation Slope is 2400Hz and Woofer -12dB, Tweeter -18dB. High quality MKP capacitors. Also, high purified OFC inductors and the metal oxide film resistors with military industrial standard. Teflon insulated OCC cable for connecting. The polyester fiber and the PU foam used as a Damping material. It has 4 pcs 18mm gold-plated copper connectors, Bi-wiring and High quality MDF. It has 1040mm×255mm×403mm (40.94″×10.04″×15.87″). and Aurum Cantus Melody M-103 SE FLOOR STAND SPEAKR's  Net Weight 26.2kgs/pc (57.70lb/pc).